Alicia Grace
Biography
Alicia Grace has worn many hats in her lifetime, including cake decorator, exotic dancer, portrait photographer, novelty store cashier, oil and lube technician, phone sex operator, dinner theatre actor, and a brief stint (no pun intended) as a lingerie model. She met her husband, erotica author Victor Carnale, at a wild theatre party in 1998, and they married in 2001. They have two children and live in the state of eternal matrimonial bliss. When Victor decided to take up writing, Alicia naturally decided that she could do it better. You be the judge.
Where to find Alicia Grace online
Series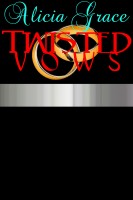 Twisted Vows
by

Alicia Grace
The adventures of Adam and Vanessa in their quest to rekindle the spark in their marriage, through any means necessary. Along the way, they will explore the depths of their love and their sexual desires.
Books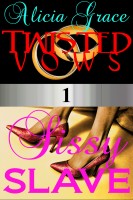 Sissy Slave (Twisted Vows Episode 1)
by

Alicia Grace
Adam and Vanessa have it all: great careers, good looks, lots of money. But their marriage is slowly dying of boredom. One fateful event, however, changes everything, and they find themselves embarking on a journey that will take them to the outer limits of their subconscious sexual desires. What depths will they plumb in order to save their marriage?
Alicia Grace's tag cloud