Maureen McKeown
Biography
Maureen McKeown had little time for hobbies but when her family flew the nest, she turned to the Internet to research her ancestors. The computer screen flashed up information on her Great Aunt, Brigid Partridge, and she was fascinated with what she read. Research took her to the convent that Brigid entered in Kildare, Ireland, at the age of 17. The warm and friendly welcome extended to her from the community of sisters gave Maureen the desire to pursue Brigid's story further and she travelled to the convent in Wagga Wagga, Australia. When Maureen returned from Australia, she painstakingly sifted through a mountain of information and carefully crafted the remarkable true story of her Great Aunt. The Extraordinary Case of Sister Liguori would help her through her darkest hours after being diagnosed with Motor Neurone Disease/ALS in 2015.
Where to find Maureen McKeown online
Books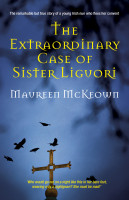 The Extraordinary Case of Sister Liguori
by

Maureen McKeown
The remarkable but true story of a young Irish nun who flees her convent in Wagga Wagga, NSW, barefoot, in her nightgown, on a foggy winter's night in 1920, setting the scene for a religious storm unprecedented in Australia's history. She finds refuge in the home of local Protestants who refuse to disclose her whereabouts to the Catholic authorities.
Maureen McKeown's tag cloud