Richard Baldwyn
Biography
Richard Baldwyn believes passionately in tradition and the importance of memory, emphasising that, whether we like it or not, we are rooted in the past and our present and future are its product. Every experience has a future but that future can be potential disappearance. A medieval mystic once wrote, 'Where does the light go when a candle is blown out?' The answer to his question is very simple. It goes to a place called memory.
Modern technology does not encourage person-to-person story-telling and letter-writing. It has virtually replaced them and Richard believes that the inevitable lack of character in television and computer communication is leading to a future with a relatively barren awareness of the past. Old age is the harvest time of life and is the moment to reap memory. That is why he has put pen to paper hoping that the moments in the long life of which he writes will not only be of interest to those who read of them now but more importantly will inform and entertain future generations.
Books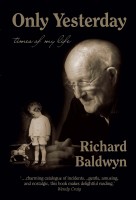 Only Yesterday: Times of my Life
by

Richard Baldwyn
This is a book of adventures written by an eighty-five-year-old and dedicated to his two-year old grandson, containing drama, tragedy, comedy, not to mention history in its most exciting yet moving form. How can one not be enthralled by the extraordinary real life events related here?
Richard Baldwyn's tag cloud