Amy LeBlanc
Biography
A longtime resident of the wild woods of Maine, Amy le Blanc penned her first intergalactic romance at the age of twelve to the horror of her friends and family. Not content to rest on her creative laurels she perused a degree in Creative Writing and Library Studies at the University of Maine at Augusta and quickly settled into the exciting world of the small town librarian. Quickly realizing that she enjoyed writing books much more than cataloguing them she decided to pursue her lifelong dream of actually publishing what she wrote. So now with two children, five cats, one very understanding husband and twelve terribly written manuscripts hanging around her farmhouse she divides her time between writing her heart out and ignoring housework.
Where to buy in print
Books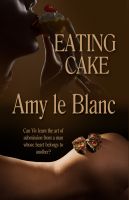 Eating Cake
Viv Moreau is a foul mouthed, tough as nails wedding cake designer who prefers to live life on her own terms. Struggling with the ghosts of a childhood filled with bitterness and loss, Viv refuses to slow down and enjoy the life she's made for herself until the day Jared Beckwith and Alex James walk through the door of her bakery.
Amy LeBlanc's tag cloud