Anahi Pari-di-Monriva
Biography
Anahi Pari-di-Monriva holds a Master of Arts degree in Applied Linguistics. She is a world traveler, avid reader, and story-teller. She has enjoyed a successful career as an interpreter and translator, including having translated "Journey of Faith", a book on the Jubilee Year, from the Italian. In her second career as an educator, she has also enjoyed the rapt attention of kindergarten and high school students as she dramatically modeled how to put the classics in one's own words.
Where to find Anahi Pari-di-Monriva online
Books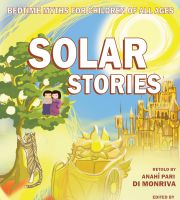 Bedtime Myths For Children of All Ages: Solar Stories
by

Anahi Pari-di-Monriva
These are the stories, freely embellished, told by the author to the continuous delight of the children in her life, and now shared with the world at large! These stories are based on myths involving the Sun, told in the order of the Sun's journey.
Anahi Pari-di-Monriva's tag cloud