Andrew Fox
Andrew Fox was born in Africa. His parents were scientists working for the government in Zimbabwe.
He attended both Primary and Secondary school in the village of Sinoia in the north-western province of Lomagundi.
He was awarded two school leavers' certificates namely GCSE and A Level.
After leaving school, he was conscripted to complete his National Service and opted for the British South African Police.
After a six month course, he graduated from the Police College armed with a clutch of certificates.
These included Police Law, Common Law, Police management, Psychology, musketry, Equitation, Typing.
Immediately after graduation he was sent to the Police Detective College. Again several certificates were collected. Now he had in his grasp was the National Investigators Certificate, Crime scene Investigation, Police Investigation Procedures. He was attached to CID murder and Robbery.
He started studying Karate at school, but during his tenure in the Police, he was awarded the coveted Black Belt in JKA Shotokan.
His partner in the CID was a third Dan Black Belt and his inspiration.
After serving as a Detective for two years, he was obliged to complete a year on the front line in the Operational Area and was attached to Ground coverage, investigating cross border incursions by insurgents.
His profession is Criminologist, specializing in a Psychosocial approach to criminal behavior.
Currrently, he lives in Europe with his wife and a host of domestic animals. His interests are myriad. These include: writing, sport, History, Archaeology and Psychology.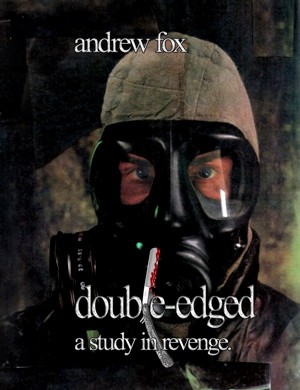 Double-Edged
by

Andrew Fox
Twin brothers, abandoned at their birth, were set out upon a bloodcurdling and unremitting manhunt throughout Britain and Europe to destroy those who trade, in child sex and slavery!