A. M. McNally
Biography
I was born and grew up in Poland. After graduating from the Academy of Physical Education in Krakow with MA in Tourism, I moved to Edinburgh, Scotland, where I met my husband, Steve.

We left Scotland on November 20th, 2006, four weeks after our wedding, with the aim of working our way around the world. Travelling was something both of us wanted to do, but it wasn't until we found each other that we finally made our dream come true.

We started by backpacking around Africa for three months, then took the Trans-Siberian Railway all the way across Russia to Mongolia. After a week in Beijing, we started a one-year contract in South Korea. We were both teaching English as a second language.

In March 2008 we set off again. We spent fantastic 11 days in Japan, then two months in India, a few weeks in Indonesia, Malaysia and Singapore. After that it was time to work again – this time in Sydney, Australia. Unfortunately, that's where the financial crisis caught up with us and we both lost our jobs. We decided to go back to South Korea to teach English and we did that until August 2011. We made a lot of friends there and Gwangju, the city we lived in, will always hold a special place in our hearts.

Cash replenished, we were ready to hit the road again. We had an amazing time in New Zealand, Australia, Thailand, Cambodia, Laos, Vietnam and the Philippines. Then it was time to visit home – first time in 5 years!

We didn't stay put for long, though. Soon we found ourselves living and working in the most conservative Muslim country in the world – Saudi Arabia. It was an incredible experience that opened our eyes to a lot of facts and misconceptions about this part of the world. We currently live and work in Bahrain.

Although all characters and events in 'Immortal' are 100% fictional, you may have guessed that a lot of my personal experiences and passions have found a way into this novel, not the least of them my love for Scotland.

I hope you enjoyed my book and if you did, please tell your friends and family about it. If you could also write a brief review on your favorite retailer's site, it would mean a lot to me.
Books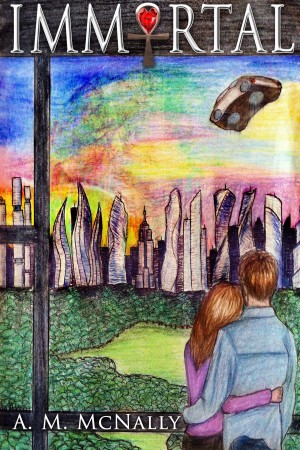 Immortal
by

A. M. McNally
Price: Free!
Words: 117,400.
Language: English.
Published: October 10, 2014
. Categories:
Fiction
»
Romance
»
Sci-fi
Amari Quinn is a world-class PR specialist. She's smart, beautiful and, like the majority of people in 2105, immortal. She has money, a great apartment and a cute guy in her life. She also has more reasons than regular Immortals to hate the mortal minority. She's on top of her game, when a disastrous turn of events throws her life down the route that she wouldn't imagine in her worst nightmares...
A. M. McNally's tag cloud