PHILLIP NORTON
Biography
Allow me to introduce myself, my name is Phillip Norton. I am a 58 year old Black blooded writer/visual activist/urban street missionary born in Cleveland, Ohio and raised in Gary, Indiana, who now resides in Indianapolis, Indiana. I, as a righteously angry Black man growing up in the Gary, Indiana urban experience have witnessed many events in my life from a very unique point of view, one that is almost impossible to express through the so called mainstream media that will never showcase a talent who doesn't echo their spiritually twisted, off base, narrow minded, delusional, condescending, schizophrenic, and hypocritical perceptions of Black reality. As an outspoken Black writer/ artist, it is very difficult to express yourself fully when the medium that publishes your work has the final say in the finished product, most often literally robbing it of its intended impact and message! I know all too well from experience that it is next to impossible to gain any lucrative acknowledgement from the very oppressors to whom I target in my work as I attempt to enlighten the ignorant and break the mental chains put on us through an educational system that never will activate the dormant greatness that exists in our mighty Black souls. Fearing none but God, I am on a divine and relentless mission to brazenly speak the truth through my creative visuals and explosive words to destroy the dysfunctions and denials of reality that are epidemic in our Black communities. Read on and let the much needed detoxification, cleansing and reprogramming begin. My talents are God given and do not belong to me, so I have a responsibility with all I have been exposed to in this life to enlighten others in my own unique way to the lessons that I have learned. Much love and solidarity brothers and sisters.
Where to find PHILLIP NORTON online
Books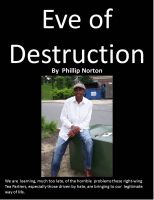 The Eve of Destruction
by

PHILLIP NORTON
An absolute must-read for anyone interested in fully appreciating the mindset and motivations of the fictitious militants who emerge to capture the collective imagination of an impatient generation of Black folks living in Indianapolis, Indiana in the wake of the election of Mitt Romney.
PHILLIP NORTON's tag cloud