Angus Writers
Biography
Angus is on the east coast of Scotland, between the Grampian Mountains and the North Sea. Our scenery is varied – the long sandy beaches and sandstone cliffs of the coast; the wide fertile Strathmore; and the famous Angus Glens, cutting deep into the mountains.
Angus Writers' Circle was founded in 1991. Our membership comes 'from all Angus' – young and not so young, men and women, novices and those with a large published portfolio.
Our aim is to promote the craft of writing for pleasure and profit. To do that, we run a varied programme. At some meetings, we have a visiting speaker talking on an aspect of writing, or adjudicating our competitions. On 'club nights', members may read out their work for friendly and constructive comment.
Our secretary circulates members with information about events, courses and competitions of interest to writers.
We meet on the first and third Wednesday evenings of each month, currently in the Rosely Hotel on the outskirts of Arbroath.
Books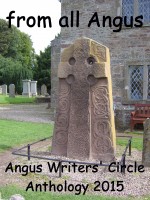 From All Angus (Angus Writers' Circle Anthology 2015)
by

Angus Writers
A varied selection of work from Angus Writers' Circle, Scotland.
Angus Writers' tag cloud