A.N. Huff
Biography
I was born in Indiana and raised in Virginia, but I've lived in California, Oregon and Texas. I've driven cross-country four times and I've had the opportunity to visit, live in or drive through just about every state in America. I currently live in Cape Cod with my fiancé and our two dogs, Wrigley and Herbie. And at this point, I only have 10 more states to go before I reach my goal. After the death of my late husband, I made a pretty big career change and life change. I received a teaching certificate in San Antonio, Texas and a culinary degree in Portland, Oregon. I love that my life has taken me into so many different directions. I've met some truly wonderful and interesting people, I've learned a lot about what's important to me and I've experienced a few things that many people never get a chance to. My life has been a roller coaster, a blessing, but a roller coaster. My Last Romance Novel is my first, and hopefully not, my last opportunity to share some of what I've learned with others. And I look forward to hearing from those of you that read the book, because I still do have A LOT to learn. Life is precious and I want to ensure that I make every second count!
Smashwords Interview
Books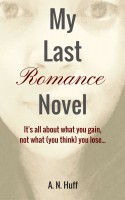 My Last Romance Novel
by

A.N. Huff
A collection of twelve autobiographical short stories that are introspective and quirky - heartbreaking, honest and real, My Last Romance Novel is about appreciating the story of love in your life. But more than that I absolutely guarantee that it will help you understand, recognize and find "true love" in your life, but only if you're up to it... And something tells me you're more than up to it.
A.N. Huff's tag cloud