Anirudha Padagi
Biography
Anirudha is a nomad at heart, a soul searcher and in quest for the truth of life.

He is also a motivator, life coach and mentor. His views of life are drawn from personal experiences and his intuition when he meets people.

His life experience comes from spending time in France, Germany, amongst Mexicans and Danes

As an occupational hazard he loves selling to enterprises and start-ups. He has completed his Masters In International business from IESEG School of Management, Lille. He is married to an awesome woman - Rashmi and lives with his parents P Dwarakanth & Sumithra in Bangalore. His parents and wife are his inspiration for his quest for higher purpose of life.
Books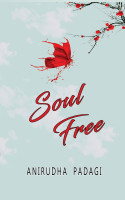 Soul Free
by

Anirudha Padagi
This book will take you on a poetic journey of life experiences of finding love, losing love and discovering your true self. You will be able to reach your true-self, your soul and be free - ""Soul Free"". Soul Free is about feeling alive, free and letting your soul be free from clutches of life.
Anirudha Padagi's tag cloud