Shirley Rose McGee
Biography
As a "stay-at-home-Mom" of four children, Mom was always an early-riser. She would be up and at 'em by 5 o'clock each morning! When we were growing up, my three brothers and I woke up every school day to the wonderful smells of a hearty, southern, country breakfast cooking! The typical breakfast faire was farm-fresh eggs and bacon, hot-from-the-oven homemade buttermilk biscuits to be slathered with fresh-churned butter and home-canned figs. And, on occasion we were treated to Mom's melt-in-your-mouth buttermilk pancakes or her golden-brown waffles served hot off the griddle with some ribbon cane syrup! Mmm! I can almost smell them now!

In the summertime, it seemed that before Mom could even get the breakfast dishes cleared, she was preparing the noon meal. By the way, in the south, we call the noontime meal "dinner" and the evening meal we call "supper." With three growing boys, there were rarely leftovers so pretty much every meal was made from scratch and had something home-grown!

Mom and Dad both learned early in their lives how to live off the fat of the land through gardening, hunting, fishing, and raising their own farm animals such as cows, hogs, chickens, etc. They also learned early on during our growing-up years how to be creative and resourceful when it came to putting healthy, delicious, economical meals on the table. Dad was the skillful hunter and Mom the artisan chef.

The recipes in this cookbook are the highlights of Mom's 50+ year career of passionate home-cooking that came straight from her heart! Shortly after I shared with her the desire to design and publish a cookbook of her recipes, she began putting together a notebook of her favorites. She actually took time over the course of several months to sit down and write out each recipe that beforehand were only in her head and heart. She also jotted down personal notes alongside some of the recipes that held special memories. That notebook is now truly a treasured keepsake and was the source of inspiration for this cookbook!
Books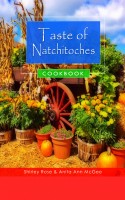 Taste of Natchitoches Cookbook
by

Shirley Rose McGee
Get your taste buds ready for an exciting journey to the heart of the south and for some simply g-o-o-d down-home cooking! This unique cookbook features the best of Mom's recipes spanning her 50+ years of passionate home-cooking that came straight from a mother's heart! Experience the flavor, charm, and seasonal beauty of our hometown as you explore these delicious recipes!
Shirley Rose McGee's tag cloud