Anita Mays
Biography
Anita Mays, the youngest of four, was born in Nigeria, to Yorkshire parents. She spent a great deal of her upbringing in Africa, while attending boarding school in England where she excelled in sports. At the Universities of Birmingham and Aix-en-Provence she read English and French literature, and attained a combined honours degree. She now lives in Berkshire.Aeroplanes had always been a seminal part of her childhood. Keen to work in the industry, she applied to become an air hostess, and was subsequently turned down by over 10 airlines. Unable to work in the back, she tried her hand at the front end. She has enjoyed a remarkably colourful career as a pilot, and this book about her experiences, won her a place as a finalist in the national competition 'The People's Author' on TV's Alan Titchmarsh show.Anita is also a qualified teacher and enjoys teaching English to Foreign students. She travels extensively (recently she backpacked round Colombia), and enjoys cycling, yoga, ceroc dancing and kayaking. She loves history, and reads avidly: novels, science, health, comedy and occasionally nonsense!Her maxims for a good life:Give yourself time to stand and stare. Don't take it too seriously. Most of all....Be Grateful!
Books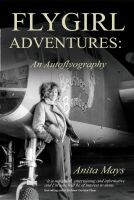 Flygirl Adventures: An Autoflyography
by

Anita Mays
A candid, funny heart-warming account of one girl's struggle to achieve her dream - to fly! And it's all here - the agonies and ecstasies of failure and triumph. Initially rejected as an air hostess, Mays then became a flying instructor and subsequently an executive jet pilot for the world's rich and famous, thereby offering us a unique glimpse into the world of private jet travel.
Anita Mays' tag cloud