Anne Baring
Biography
Anne Baring is a lyrical writer. Why? Because she is able not only to amass a vast body of scholarship, and then to order it and produce lucid clarity; but then comes her real genius. Her real genius is to see the light that wants to come through — through the volumes, through the centuries, through the history, the myths and the legends. And her ability to make sense of human experience, and to express it as lyrically as she does, throws essential light on our present condition. This is contemporary politics as it should be applied by leaders. This is history as it should be taught in schools, to liberate the imaginative souls of children. This is insight and inspiration to open the minds and the hearts of twenty-first century adults.

Anne Baring has devoted her life to humanity's recovery of the anima mundi – the soul of the world, and indeed its own soul. The Dream of the Cosmos is the climax of that quest, the fruit of a lifetime of thought and feeling, learning and vision. It is the story of a dramatic personal journey, but also an attempt to confront the greatest issues facing our time. Every page breathes her moral passion, her love of beauty, her spiritual aspiration, her deep care for the Earth. Above all, Anne Baring calls for a fundamental transformation in the way human beings live on this Earth and with each other. It would not be too much to say that this book is a cri de coeur from a place deep in the collective psyche that carries not only our past but our future. The Dream of the Cosmos pulses with the fierce tenderness and grave urgency of love for an infinitely precious new being struggling to be born.
Books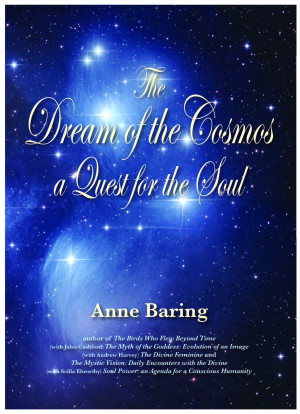 The Dream of the Cosmos: A Quest for the Soul
by

Anne Baring
In The Dream of the Cosmos, Anne Baring addresses the real cultural roots of our multifaceted crisis — spiritual, psychological, ecological, social, political and economic. The book is a symbol of hope and renaissance - essential reading for anyone wishing to understand the patterns of Western culture and show how it can be overcome.
Anne Baring's tag cloud