Annelise Ahl
Biography
Being a teacher and a mother I used to tell and write stories for my kids since they were young. They are now grown ups, and pushed me to publish these stories so all kids would be able to enjoy them.
We like working together in the family, so my daughter Allison started to draw the main characters and my husband, Thomas, who is also a painter, drew and painted all the illustrations using water colors.

The Tales of the Garden is a collection of stories about vegetables and were written with the aim of making kids love and eat them.
Hope you and your kids will enjoy the stories. I would love to hear from all of you who have read them.
Books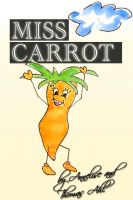 Miss Carrot
by

Annelise Ahl
"Miss Carrot was born on a sunny day in the spring..." This story is about an adventurous carrot who discovers the world until the day she meets Alice. The story will be a pleasure for the eyes with the beautiful watercolor illustrations. It is the first book in the series *The Tales of the Garden* which is going to help your kid learn about vegetables, and surely love them!
Annelise Ahl's tag cloud