Anne McAllister
Biography
Best-selling author Anne McAllister has written nearly 70 romance novels — long and short, contemporary, time travel, and single title. She has won two RITA awards from the Romance Writers of America and has had nine other books which were RITA finalists. Anne grew up on the beaches of southern California, and spent summers in Montana and on her grandparents' small ranch in Colorado. They were formative experiences — not only in providing her settings, but in giving her heroes. She finds herself attracted to lean, dark, honorable men – often lone wolf types – who always get the job done, whatever it might be. Anne and her husband, The Prof, spend the school year in the Midwest now, but are looking forward to more time in Montana when he retires. But wherever they are, Anne will always be writing. There are too many ideas not to!
Where to find Anne McAllister online
Books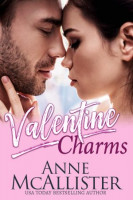 Valentine Charms
by

Anne McAllister
(3.00 from 1 review)
Zack Stoner had never forgotten Jane Kitto. When they were younger, he'd been confused, unnerved and fascinated by the sweet and generous Jane. It wasn't all that different now, except he was a man, and knew he wanted her. But would Jane take a chance with someone like him?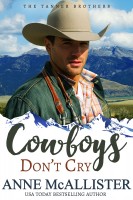 Cowboys Don't Cry
by

Anne McAllister
Tanner was far from a saint. He didn't do permanent, he didn't do relationships. The smart thing would be to leave. But a man was only as good as his word. Trouble was, the longer he stayed, the more Maggie got under his skin…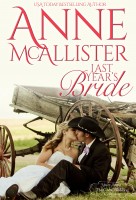 Last Year's Bride
by

Anne McAllister
The ranch always came first, sometimes reason and definitely women. So how had Cole ended up making a spur-of-the-moment marriage last year in Reno to TV director Nell, who was as city as they came? Nell came back to Marietta with The Compatibility Game, a reality program, in which couples discovered what they were willing to do for love by living, and Cole found himself taking part too....
Anne McAllister's tag cloud