Anne O'Gleadra
Biography
Anne O'Gleadra is currently taking the most circuitous route through academia known to humanity. Thankfully, she gets to do so on majestic Vancouver Island, where she spends her time procrastinating, devouring podcasts, and telling her cat how cute she is. She is perpetually grateful to her extraordinarily kind friends and indulgent family whose support means just about everything.
Where to buy in print
Books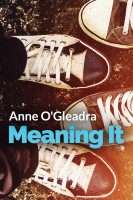 Meaning It
by

Anne O'Gleadra
Benjamin has known Dagen Mercutio (real name) since elementary school. Together, they're one half of a successful emo band where Dagen exploits the chemistry between them for profit. But being crammed into a tiny tour bus with a notorious heartbreaker isn't as fun as it sounds. As things heat up between them, Benjamin has to decide whether to walk away—or to risk it all for love.
Anne O'Gleadra's tag cloud