Annie Nutt
Biography
Annie Nutt is married with one child. She lives in Macon, Georgia, home of the Music Hall of Fame and the famous Indian Mounds. She has been writing since she was a small child, and she never intends on retiring. She writes for fun, to entertain people, and sometimes just to relieve stress. She thinks that everybody should write books, although few people actually agree with her on this point.
Books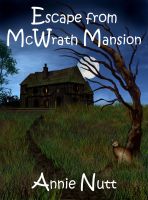 Escape From McWrath Mansion
by

Annie Nutt
Helen McWrath spurs bad luck wherever she goes, and she travels far. In this strange tale about luck, psychology, road trips and friendship, eleven year-old Liz Badlock's necessary objective soon becomes clear…to escape from McWrath Mansion.
Annie Nutt's tag cloud