Jessica Harman
Biography
I am a writer living in Maryland and Boston. I Earned my B.A. in Creative Writing from Concordia University, in Montreal. My favorite writers at Fyodor Dostoevsky, T. C. Boyle, Balzac, and Derek Wolcott. I went through a Sylvia Plath phase, but got over it. I enjoy pool. chess, walking in the country, losing weight, and books.

I was born in Montreal, and learned many Medieval French and gypsy lullabies there. My youth was spent studying metaphysics and playing pool--I must say I was somewhat of a shark. I moved to the United States in 2001, when I was 27. I came to Boston to do a degree in Biostatistics. I had always wondered if it was interesting. It isn't. I still like it, though.

I currently reside half with my parents and half in a hotel room. It works out for me.
Books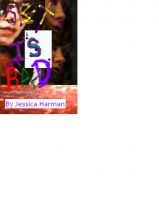 Sex Is Bad
by

Jessica Harman
A theater student named Anne writes a theory paper, applies for a job as a stripper, and contemplates how to get a man she is in love with into her life. She thinks erotic things, theoretical things, and things that she hopes are practical, but are not, really. She is a dreamer, a lover, a troublemaker. Will she find love, a job, happiness, and above all--meaning?
Jessica Harman's tag cloud