Anthony Ginn
Biography
Happily married since 1970. Two grown up naughty boys. Worked as road sweeper, kiln fireman in toilet factory, social security officer, schoolteacher for eight years, journalist, technical author, editor of all sorts of things, poet, musician, pavement artist, door to door salesman etc. Well travelled. Advised Labour Party on IT education policy. Organised rock concert for first red nose day. Organised "Poets Against the War" and delivered 10,000 anti-war poems to Tony Blair. Vegetarian. Old hippy. You should get the picture by now.
Where to find Anthony Ginn online
Books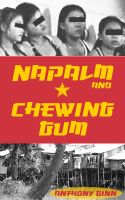 Napalm and Chewing Gum
by

Anthony Ginn
(5.00)
Napalm and Chewing gum is the story of a brother and sister who live in a shanty town outside Hue, in Vietnam. They have recently left school. Su gets a job in Uncle Four Elbow's karaoke bar, not realising he is grooming her for a life of prostitution. Her brother plans to get rich by recovering war relics from the Demilitarised Zone. He will soon discover some relics still have the power to kill.
Anthony Ginn's tag cloud