G.T. Lancer
G.T. Lancer is PEACHED to be a part of Smashwords. It's been a long time coming that I find a conduit for my gift. Get this, so, I'm such a natural composer of prose that my wife left me. That's right, I'm VERY single and VERY happy now (as opposed to being crushed into a fit of depression) because of the uncompromising strength that my voice contributes to my plot and how that resonates with my readers, admirers, worshippers, etc. She loved to read my musings as anyone does, and became so compelled with the journey of my Protagonists, that she went right out the door and cheated on me with a superior lover. That's not to say that any of my protagonists were actually in the process of freeing themselves from relationships in my actual stories - that's kind of a trope I stay away from. Is suppose it was the intrinsic journey telling that empowered her to see that what she needed was not me. It was a tallish brute named Brent. How and why would anyone ever leave someone like me? A full proof legend of the written word? Come on....Brent?!! Really? Can't it be a better name? Something more on the fringe, like Asher, or Jayden? Even classic man, like Jack. Nothing wrong with Jack, But BRENT?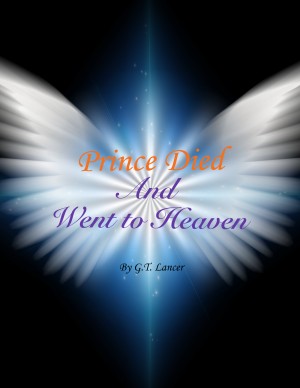 Prince Died And Went to Heaven
by

G.T. Lancer
Things get a little complicated in Heaven when the most sensual man (The Artist Formerly known as Prince, or Prince as we all know him) in America passes away suddenly ;( This is the first flash in a series of flash fictions following the arrival of Prince upon Heaven's Gates.