Ann O'Neal Garcia
Publisher info
When I was born in southern Illinois, there was an earthquake that shook Redbud but didn't hurt anyone. There were three infants named Ann in the nursery, but I was the only one whose first name was Ann. Luckily I had very educated parents who were inveterate readers and yes, who often wrote stories. Dad worked with his father who owned a local drug store. Mom worked for the Greenville, Illinois newspaper, the Advocate, part time, but was mostly a stay-at-home mom. She and Dad got to choose any ten acres of woodland from Grandpa's acreage, so they discovered Indian Creek where Dad built us a house at the top of the tallest hill. I had and still have two brothers, Denny and Jody, who also loved living in the woods. We were creative kids, allowed to run free most of the time. All of us read a great deal; I pursued art and story writing while my brothers were more scientific. When I was 11, my brothers 10 and 6, our mom died. It was a turning point in our lives, a devastating blow. I decided early on to "make her proud" even if she was far far away. I figured she'd tune in. She has. I carry her within me wherever I go and try to love life as much as she did. In my professional life, I was a teacher of English, having graduated from the University of Wyoming in 1961. After I retired, I chanced into employment again when we moved to Las Vegas, NM, hired as tutor at the writing center at NMHU. Besides all this teaching which I loved, I wrote and wrote and wrote. The stories you will find here were only a fraction of that writing. I was lucky enough to be published by Holiday House in 1982 with my YA book, Spirit on the Wall. Sun Magazine has taken some of my Readers Write essays, and I had an article published in Our Turn, Our Time by Beyond Words. Most of my writing is under my bed in boxes labeled Stories, Essays, Poems, this novel and that novel. I love to write but hate the business of trying to get published. I figure a writer is, simply, one who writes. I fulfill that description, and now ... I am published again! I think I've made Mom proud.
Smashwords Interview
Books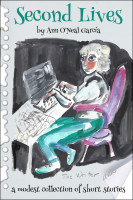 Second Lives: A Modest Collection of Short Stories
by

Ann O'Neal Garcia
The thirty short stories in Second Lives reveal a humanity of a wide range of characters, including a motherless girl of twelve appalled by what's happening to her body, or a drunken broad looking to run off with Jesus, or a teenage boy dreaming of the winning bull ride. This author lovingly draws her versatile cast with clear-eyed detail and perfect pitch, leaving reader enriched.
Ann O'Neal Garcia's tag cloud