Sheri Combs Lantz
Biography
My name is Sheri Combs Lantz, I have written several short works about my path to finding a true peace that passes understanding on my walk with the LORD. First let me say that I felt the holy spirit fully while writing these pieces of my life. The first is GODS SOLUTION TO THE FISCAL CLIFF, How a Biblical Jubilee Can Fix our Economic Woes. This work discusses how the LORD gave divine instruction to humankind as to how to alleviate human suffering caused by the root of all evil, GREED. DOUBLE STANDARDS & THE COMMERCIALIZATION OF CHRIST, discusses how we have taken Jesus Christ, the manifestation of GOD, who walked among us on earth, and replaced HIM with the false GODS know by such things as: the Easter Bunny, the Tooth Fairy and of course Santa Claus and how these false idols will never fill our hearts, minds, body and soul. 33,000 SHADES OF CHRISTIANITY discusses the reason I believe that Christianity is failing and has been so bastardized that we now have over 33,000 so called Christian denominations. I am the queen of questioning the question. I am a Sinner not a saint. I am the mother of a 3, a wife, an organic farmer, self reliant prepper, avid Equestrian, Friend, Reformed Liberal, a proud American trying to live the jaded American Dream but most importantly A Practical Girl.
Where to find Sheri Combs Lantz online
Books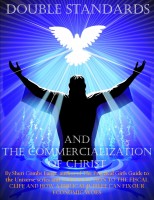 Double Standards and the Commercialization of Christ
by

Sheri Combs Lantz
The Divine Providence that once guided a nation & its culture has become irrelevant. There is no place on Earth or in the World today, where those who are led by divine principles can go and recreate what they have allowed to expire. What shall we do to maintain these principles? It is far easier to maintain your principled beliefs than to retrieve them once they have been taken.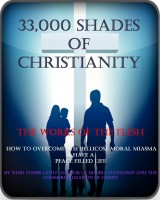 33,000 Shades of Christianity, The works of the flesh
by

Sheri Combs Lantz
Christianity is under fire & constantly being bastardized by the mainstream media, politicians & worse, it is being maligned by Christians themselves. As Christians we must remember this "Wherefore I was grieved with that generation, and said. They do always err in their heart, and they have not known my ways." Hebrews 3-10. We can never underestimate the power of those placed in our path.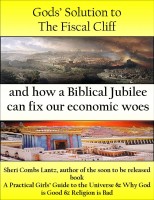 Gods Solution to the Fiscal Cliff and How a Biblical Jubilee can Fix Our Economic Woes
by

Sheri Combs Lantz
The Fiscal Cliff is coming and there is no-one on the Earth that can fix the mess we are in. No one except God. Only the Divine Wisdom, of the great innovator could ever offer a true solution to the crisis' we face. The world needs a year of JUBILEE
Sheri Combs Lantz's tag cloud