Ardeth Huntington
Biography
Ardeth Huntington has been associated with Yosemite National Park for 26 years: hiker, backpacker, and history enthusiast. During many years as an employee of the National Park Service as a Park Information Ranger, she has written about Yosemite in park publications and natural history guides. Her account of an excursion with Dr. Carl Sharsmith, beloved Yosemite ranger-naturalist, "A Winter Day In Yosemite", was published by the Yosemite Association. When not writing about Yosemite, she explores Yosemite's human history and hikes its trails. Her wish is "...for the coming of a time when the glory that is Yosemite will no longer be diminished by intrusions of the trivial and exploitation for profit, but cherished for every unique feature: a place like no other place on this earth."
Books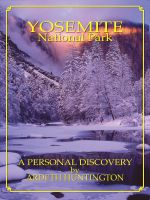 Yosemite National Park: A Personal Discovery
by

Ardeth Huntington
Yosemite has long been beloved by artists, writers, and travelers from every corner of the Earth. John Muir made its preservation his life's work and photographer Ansel Adams made many of his most memorable images here. Join us as we explore this extraordinary, glacier-sculpted landscape known and revered by generations of visitors as one of the most beautiful places on Earth.
Ardeth Huntington's tag cloud