Arianna Silver
Biography
Arianna Silver grew up wishing she would just once brush up against the paranormal— experience a haunting, catch a glimpse of a U.F.O. or tap into magical powers. Sadly, none of these fantasies ever came true and life was pretty dull—until she realized she could write the magic into existence. She hopes readers enjoy her stories of average girls who have to juggle classes, homework, family and boyfriend issues as well as having exciting paranormal adventures.
Where to find Arianna Silver online
Books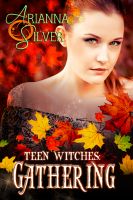 Teen Witches: Gathering
by

Arianna Silver
Natalie Winters is unhappy about moving in the middle of a school year, until she meets Anali and Chloe and finds they're as interested in magic as she is. Each girl has an affinity for one of the elements and can draw on the incredible power present in nature. But soon the friends are plunged into deeper magical waters, facing a djinn that's not as obedient as the genies in fairytales.
Arianna Silver's tag cloud