Arnold G. Danielson
Biography
The impact of economic crises and consolidation on banking is something that Arnold G. Danielson witnessed beginning in the early 1970s from inside a bank holding company and from 1977 to 2007 from his firm, Danielson Associates, which was an advisor to banks and thrifts attempting to adjust to a continually changing banking environment. From 1985 to 2007 he wrote the regional and national Danielson Reports that described what was happening in the industry at the time. In 2007, he published his book, "Consolidation of Banking: or How Five Banks Bought 50% of America's Biggest Business," of which this book is a revision of and updated to include the period from 2008 to 2013 and place a greater emphasis on the impact of economic crises on banking. Today, Mr. Danielson is retired, and he and his wife, Vivian, split their time between homes in Potomac, Maryland and Nice, France. His time in France and love of history are reflected in a book far removed from banking, "A Traveler's History of Cote d'Azur," published in 2012.
Books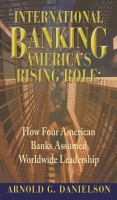 International Banking
by

Arnold G. Danielson
The story of international banking over the last twenty years began as an assembling of financial power in Europe, with London as the focal point, that would be totally reversed by the financial crisis of 2008.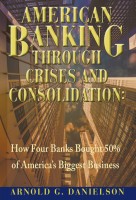 American Banking Through Crises and Consolidation: How Four Banks Bought 50% of America's Biggest Business
by

Arnold G. Danielson
Six weeks in the autumn of 2008 dramatically changed the direction and structure of American banking by taking size and consolidation to a new level that few fully yet understand. Like in all financial crises an inevitable result is the big banks get bigger and the number of banks fewer.
Arnold G. Danielson's tag cloud