Charles Alphonse
Charles Alphonse is a Franciscan Capuchin Friar from Madurai, Tamilnadu, India, now serving in Rome as General Secretary for Formation at the Capuchin Generalate, Rome, Italy.

He holds a Master's Degree in Psychology (India) and PG Diploma in Counselling and Psychotherapy (India and Canada), a Licentiate in Moral Theology (Rome). For more the 25 years he has been teaching counselling psychology, NLP, and spiritual inner journey. Recently he has been conducting Integral Optimism sessions at Anugraha Counselling Institute (India) and other institutes around the world.

Presently he is involved in research on the effectiveness of Integral Optimism and Spiritual Integration on Human Growth and Well-being.

Being grateful to God the Creator for all the wisdom and creative gifts received, he is trying to share those, through integrally optimistic and spiritual ways, with all particularly the poor and needy. This book is another flower added to the beautiful home garden of God where everyone has a place.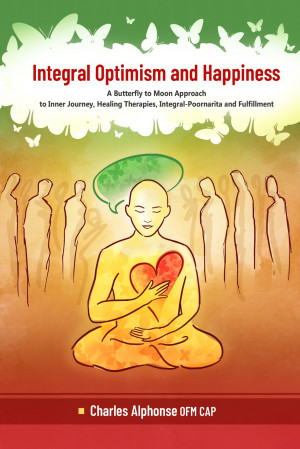 Integral Optimism & Happiness
by

Charles Alphonse
There are optimistic ways help to bring considerable changes to people's lives. Being an integrally optimistic person, one is able to have a new vision and perspective of persons, life, situations and reality on the whole.