Bum Muscle
Biography
My name is "Bum Muscle" and I am a certified personal trainer (AFTA) and a fitness and health fanatic. I truly believe that you can change your life by embracing a healthy and active lifestyle. That great feeling I get after a work out, the thought that life is good, the feeling of invincibility and the the sharpness of the mind makes me happier, more productive, and full of energy. I want you to feel this way too!

10in30 Fitness is the result of my quest to lose 10 pounds in a month and get healthy and strong. I did this after I successfully gained ten pounds of muscle as quickly as possible a few years ago. After trying many methods, I finally found the right formula of weight training and diet. I realized that there are many factors when it comes to fitness and your body. Everything has to work together.

I went on to find the perfect way to LOSE the excess fat I gained on top of the muscle. Since I managed to gain ten pounds in just one month, I wanted to lose 10 pounds of fat in the same amount of time. I found the right way to do that and wrote it all down in my website, 10in30.com. After 6 years, I have updated and added more info and have transferred the highly valuable info to my ebook in a more easy to follow format.
Videos
The 10in30 Supernovem Circuit Workout!
Finally lose 10 pounds in a month & get 6-pack abs with this 9-rep, 9-set super workout from 10in30 Fitness! Get the full virtual trainer video FOR FREE: http://10in30.com/10-pounds-in-30-days/my-latest-course/ Use the video as a timer, to reference each exercise and to check your form. You don't have to worry about keeping track of which set or how many reps you're on since the exercises and current rep count are all shouted out. Just hit play and start your workout!
Books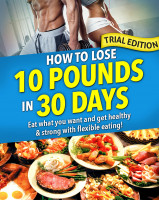 How to Lose 10 Pounds in 30 Days: Trial Ed:
by

Bum Muscle
Get Strong and Healthy! No crash dieting! Eat what you want and still lose weight with flexible eating and keep it off for good!
Bum Muscle's tag cloud