Andrzej Heyduk
Biography
Polish-born Andrzej Heyduk emigrated from his native land to the United States in 1983 and now lives in Fort Wayne, Indiana, where he shares a house with his wife of 'countless' years and with canine companions. Although he has degrees in linguistics and philosophy, he has been working for years as a freelance journalist, writing frequently for both Polish and English publications. This is his first venture into fiction.
Books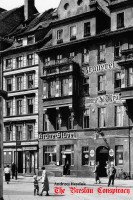 The Breslau Conspiracy
by

Andrzej Heyduk
It is rare for mundane jobs and boring lives to be suddenly turned upside down. In the case of two Chicago friends a letter from a foreign land changed their everyday existence into a worldwide adventure which plunged them into the thick of a terrorist plot. An underground treasure hunt in the heart of a Polish city and a trip across the Czech Republic culminate in a final showdown in the US.
Andrzej Heyduk's tag cloud