Alistair Wightman
Biography
Alistair Wightman has written extensively about Polish music of the early twentieth century, and is the author of studies of Mieczysław Karłowicz – Karłowicz, Young Poland, and the Musical Fin-de-siècle (Ashgate, 1995) – and Karol Szymanowski – Karol Szymanowski: His Life and Work (Ashgate, 1999). His translation of some of Szymanowski's writings on music, Szymanowski on Music, was published by Toccata Press in 1999, and his recent study-guide – Szymanowski's King Roger: The Opera and its Origins (Toccata, 2015) – has been well received.
Where to buy in print
Books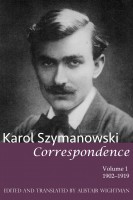 Karol Szymanowski: Correspondence, Volume 1: 1902–1919
by

Alistair Wightman
This first volume of Karol Szymanowski's correspondence, edited and translated by Alistair Wightman, is now accessible in English for the first time. Spanning 1902–1919, the letters begin with the composer's student years, leading to his experiences of the First World War and the Bolshevik Revolution, and culminate with his desperate attempts to find a way to the newly independent Poland.
Alistair Wightman's tag cloud