Angela Schliesser
Biography
Angela Schliesser was born and raised in Northern California always having a craving for adventure and the great outdoors. Attended college at Montana State University and always enjoyed the wildlife and outdoors of Montana.
After meeting her husband Ryan who was an outdoor extremist, they decided to move their family to Alaska and start an adventure. Spending their time outdoors at their remote cabins, flying their bush plane, and living life in the alaskan outdoors. They have 3 wonderful children who have inspired Angela to write books. Having an incredible likeness to the outdoors and living off the land, they eat what they can grow or what they can hunt / catch. Living in Alaska is part of their adventure and everyday life.
Books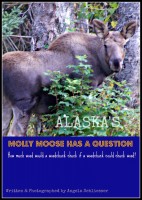 Alaska's Molly Moose Has A Question
by

Angela Schliesser
In the heart of Alaska is a swamp where Molly Moose lives with her friends. Molly Moose has a Question of how much wood a woodchuck could chuck? Molly and her friends Colton Caribou, Bart E. Beaver, & Brady Bear all put in efforts to help find out how much wood their friend Wally Woodchuck can chuck. Through Molly's adventures kids will learn interesting things about Alaska.
Angela Schliesser's tag cloud