Miko Marsh
Biography
Miko Marsh is a mother, author, caregiver, instructor, and motivator. She has a degree in social services, college certification in Early Childhood Care Education, has worked directly with individuals in behavioral facilities, and has owned her own daycare. Her author credits include books related to caregiving, an educational workbook for introduction to childcare, and personal transformation. Several hundred of her articles, blogs, blurbs, and notes are posted online through different ministries, organizations, and businesses for which she was a ghostwriter or contributor. Miko's main writing areas include Bible-based topics, caregiving, personal growth, and interpersonal communications. However, she will sometimes write things to amuse herself because she loves to laugh.

In addition to homeschooling her children for a few years, she has given instruction in piano, reading music, mathematics, and other areas in which she could assistant. She enjoys supporting others, helping them to find areas in which they can shine, and seeing people of all ages and abilities reach their individual goals.
Books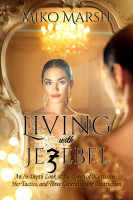 Living with Jezebel: An In-Depth Look at the Queen of Narcissism, Her Tactics, and Three Generations of Destruction
by

Miko Marsh
See narcissism displayed in the life of Queen Jezebel. Her actions show examples of how narcissists behave. See how one person affected two kingdoms, caused international problems, and destroyed generations.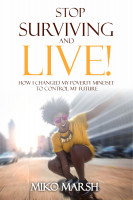 Stop Surviving and Live! How I Changed My Poverty Mindset to Control My Future
by

Miko Marsh
Stop settling for a mediocre life by putting to use some things Miko Marsh tells you to consider in her book "Stop Surviving and LIVE!"
Miko Marsh's tag cloud