Aurelia Zoss
Biography
Aurelia first set foot on Indian soil in 2009 to travel and backpack across the country for two months. At the end of the trip, she decided that she needed to come back. A year later, she was again traveling and exploring the Indian subcontinent and finally heeded its call: After completing her Master's degree, she got the opportunity to work and live in India and experience this vast country from an insider's perspective.
Since then, Aurelia has traveled all across India, meditated in the remote Himalayas and visited fishermen's homes in the tropical South. She had dinner at a rickshaw driver's home in Delhi, stayed with Indian families in seven different states and was part of a three-day traditional Indian wedding.
She took local buses and trains, ate at the road side, took bucket showers, slept in five star hotels and in jungles. She rented apartments and did traditional Hindu housewarming rituals. She celebrated Hindu festival like Holi and Dussehra. She hired maids, visited doctors and managed Indian employees.
Her stories about tailors, bus drivers, maids, shoe vendors, neighbors, rickshaw drivers, dentists, coconut vendors and office colleagues are so heart-warming that you will not want to put this book down but remain in Aurelia's world.
Books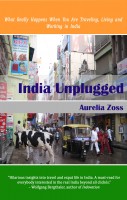 India Unplugged. What Really Happens When You Are Traveling, Living and Working in India
by

Aurelia Zoss
How do you take a bucket shower? Why are your colleagues offended if you don't bring chocolate to the office? How do you bargain with a dentist? In her new book, Aurelia shares the most eclectic and personal stories from her life in India. Entertaining, witty, and insightful, India unplugged is an irresistible treat for armchair tourists, experienced expats and adventurous backpackers alike.
Aurelia Zoss' tag cloud