B.L. Morgan
Biography
B.L. Morgan is the author of The John Dark Books; Blood and Rain, Blood for the Masses, Blood on Celluloid, and Blood and Bones. He also authored Night Knuckles and You Play/You Pay. He writes fast paced action novels that blend science fiction, urban fantasy, detective, noir, horror and western genres.
Where to buy in print
Books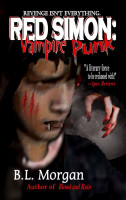 Red Simon: Vampire Punk
by

B.L. Morgan
What would happen if an abused, ignored, angry teenage boy was given the power to make all of his tormentors pay for what they did to him? Red Simon: Vampire Punk answers that question with buckets of blood.
B.L. Morgan's tag cloud