Angel Creek Press
Publisher info
Angel Creek Press is a small publisher of Ebooks and soon to be print books. We take pride in fun, uplifting, sweet stories filled with not only romance, but action, adventure, suspense and mystery.
Established in 2013, we hope you enjoy these first offerings from our talented authors.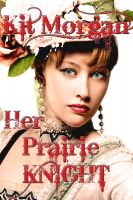 Her Prairie Knight (Prairie Brides, Book Two)
Colin Cooke saw an angel! Beautiful, of exquisite form, and with honey gold curls that bounced when she walked. Unfortunately, she walked straight into the arms of Mrs. Irene Dunnigan! How was he going to get acquainted with the exquisite creature while Mrs. Dunnigan roamed about guarding her like some fire-breathing dragon? Will love find a way? Or be no match for the cantankerous Mrs. Dunnigan?
Angel Creek Press's tag cloud