Keat Peng Goh
Biography
Goh Keat Peng is happiest when he is at home where everything and everyone is familiar to him and where the least fuss is generated. Yet he has traversed the country and the world to pay his dues to humanity by way of teaching, training, counselling as well as humanitarian services. He has been an avid observer of politics the world over since his school days with a compact shortwave transistor radio close to one ear well past midnight, listening to speeches, interviews and news. Comparative politics is what he calls this approach of observing, learning and appreciating how diverse situations and challenges impact the political equation and how the political dynamics in turn respond with suitable problem-solving leads to meet these various demands. In this way he understands and appreciates politics but only as long as he is not conscripted to vie for political or public office. When things get really complicated, he takes whatever time there is on the bicycle under the open sky, with the breeze on his face.
Where to find Keat Peng Goh online
Books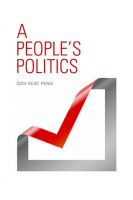 A People's Politics
by

Keat Peng Goh
(5.00)
This author subscribes to the principle of check and balance in all human enterprises and endeavours to mitigate the effects of human sin. Therefore he supports a two-party system as the only legitimate democratic process whereby contesting sides in an election to parliament, state legislative assembly or local council may not take their constituents for granted.
Keat Peng Goh's tag cloud