Borderhouse Publishing
Publisher info
Borderhouse Publishing publishes romance, thrillers, mysteries and some children's books through our children's division. We no longer publish erotica. We have a few self-help books under our nonfiction division in the areas of motivation, self-esteem building, and other areas. We are building our teams of authors and our roster of books, and, we hope that you will find your next favorite book here at Borderhouse.
Where to find Borderhouse Publishing online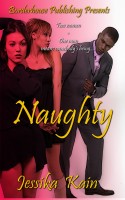 Naughty
by

Jessika Kain
What happens when two women want the same man? Dennis McQueen knows that his boss, and her secretary both have the hots for him. While he really likes Ellen, he can't resist the hot and sexy Gwen. What results is a love triangle so hot and juicy, you will have to read this book with a fan and a tall glass of ice water.
Borderhouse Publishing's tag cloud