Piper Street Publishing
Publisher info
Piper Street Publishing is a paperback and ebook publisher of multi-cultural and interracial romance covering a multitude of categories,including but not limited to: Contemporary Romance, New Adult/College Romance, Urban Romance, African American Romance, Romance Suspense, and Inspirational Romance. We will be adding two other umbrellas of publication: a children's book division and an inspirational division later in 2017. We will begin accepting authors for publication in the Spring. We are excited about all of the great love stories that are going to come out of this publishing house. We hope that you will be joining us. Hopefully, you will find your next favorite author.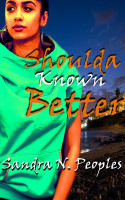 Shoulda Known Better
by

Sandra N Peoples
Jamaica McGee meets the man of her dreams during her freshman college orientation. That man is Derrick Lewis, a gorgeously handsome young man who seems to have it all together. But things quickly spiral out of control when Jamaica decides that she wants to take things to the next level with Derrick.
Piper Street Publishing's tag cloud