Aaron Lee
Biography
I spend most of my work days sitting in front of my computer as a professional Japanese to English translator. My commute is as long as it takes me to stumble from my bed to my desk, which is pretty nice considering how crowded the rush hour trains can be in Tokyo. This would seemingly give me more time than the average person to work on new novels, but I always seem to find some excuse not to. I spend nearly as much time working as I do wishing I was a professional skateboarder. What could be more fun than skating every day? And when I break a hand or wrist skating, I'd be injured on the job rather than trying to explain to people why it takes so long to type with my left hand only. I fastidiously search out the best burger and curry joints in the metro Tokyo area, and spend three or four nights a week exploring the streets of the city on my bike long after most sensible people have gone to sleep. Video games are my worst enemy and best friend. I hope you enjoy Felled by Ark and any subsequent books I put up here. Keep reading, no matter what.
Where to find Aaron Lee online
Books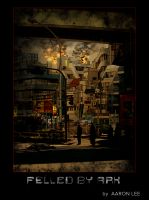 Felled by Ark
by

Aaron Lee
(4.00)
For all the Wanderer knows, everyone else in the world is dead. Dead, however, seems to have a flexible definition these days. As he combs the corpse-littered streets of Tokyo for his wife, the Wanderer will find himself stalked by possible survivors, remnants of the metropolis, and something much worse.
Aaron Lee's tag cloud