Dr A.V. Koshy
Dr A.V. Koshy is an established author and writer who is a poet, critic and artist. He has a doctorate in Samuel Beckett's Poems in English from the University of Kerala. He has published a monograph of essays called Wrighteings: In Media Res and has several, published research papers to his credit. He has also published poems in India, UK, America and Canada in poetry journals, magazines, e-zines and anthologies. He has two certificates, one in entrepreneurship from the World Bank, and a diploma in education, partly from the USA, besides his expertise in teaching English Language and Literature in different premier institutions and parts of the world like KSA, India and Libya. His greatest desire is to build a village for people having autism where all their needs are met and he runs an NGO called Autism for Help Village Project with his wife for this dream to come true.
He can be contacted at terrestrian@gmail.com
Wrighteings: In Media Res is a book for intellectuals on theory and an experiment as to whether anyone is left in the world who can still differentiate between wheat and chaff. Is the reading worth it? Yes, if you are interested in Psychology, Design by Development, Art, Politics, Creativity, Creative Writing, Sexuality, English, Literature, Education, Critical Theory, History, India past and present, philosophy, intertextuality, transdisciplinarity and a host of other things. In other words, if you are interested in eclecticism, serious thought, hermeticism, esoteric writing, auto-didacticism and hermeneutics, this is the book for you. Read carefully to get the most out of this enjoyable but densely written book.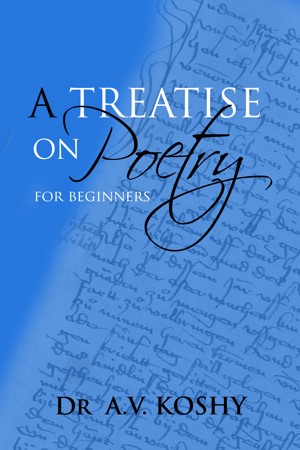 A Treatise on Poetry for Beginners
by

Dr A.V. Koshy
(4.33 from 6 reviews)
This small book A Treatise on Poetry for Beginners is an attempt to encourage a beginner to take more interest in reading and writing poetry, at a deeper level than is the usual practice. With this aim in mind, the reader is introduced to the elements of poetry with examples in a light, humorous and interesting manner.