Dean Withey
Biography
I have always had a big imagination and often wrote stories at school. I realised then that I wanted to write stories but it has taken many years to finally sit down and start writing. I have travelled to many places and was also in the Navy in my younger years, this helps me in writing stories which often have similarities to the things I have come across in life.

I was a teacher for several years mainly working in Spain, but I have also taught in other areas and enjoyed this very much. I no longer teach and am now focussing on my writing.
The Rosie Plan is my first book and it is aimed at children and young adults. My life is now also dedicated to looking after animals. For the future, I hope to get underway soon with three different stories that I have been wanting to write for a while now, though these are not Children's stories. There will also be the final part to the Rosie Plan which will be written after those books.

Thanks for looking at my website and I hope you enjoy my stories as much as I enjoy writing them.
Books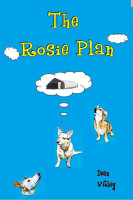 The Rosie Plan
by

Dean Withey
The Rosie Plan is a tale of three youngsters growing up together. Rosie has wondered since a very young age about an unused old secret building where they live. Having heard all sorts of stories about what was inside the strange building she eventually decided that she just had to find out if they were true.
Dean Withey's tag cloud