Arthur Weinreb
Biography
Arthur Weinreb was called to the bar of Ontario, Canada, and has practiced mainly in the areas of immigration and criminal law.

Arthur is the co-author of The Criminal Lawyers' Guide to Citizenship and Immigration Law (Canada Law Book,1996). He has also written for other legal periodicals and publications. For more than 10 years he was associate editor and columnist for Canada Free Press and currently writes for Decoded Science and Digital Journal.
Books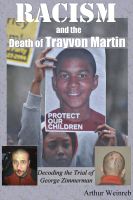 Racism and the Death of Trayvon Martin
(5.00)
The media portrayal of the shooting of Trayvon Martin, and the subsequent trial of George Zimmerman has been described as inflammatory. Was the Zimmerman trial fair? Would the verdict have been different, had Zimmerman been black, and Trayvon white? Lawyer Arthur Weinreb addresses these questions and more in Racism and the Death of Trayvon Martin.
Arthur Weinreb's tag cloud