Andrew Young
Biography
Andrew Young is a Stand-up comedian from Western New York. He owns and operates Western New York Comedy. his roles include booking comedy showcases, writing, directing, producing, camera operations, lighting operations, audio engineering, editing and acting. Andrew is a student at Full Sail University and he intends to graduate in the Spring of 2019 with his Bachelor's Degree in Creative Writing for Entertainment. Andrew is a former animator at NASA Goddard Space Flight Center, with a background in Heliophysics, Astrophysics, Earth Science, and Planetary Science. His animations include satellites, the International Space Station and the Hubble Space Telescope. He Began his professional career as a Scout in the U.S. Army. He was Active Duty for 10 years, and promoted to Sergeant after 3 years of service. Andrew spent 7 years as a leader before being honorably discharged as a Staff Sergeant in 2014.
Books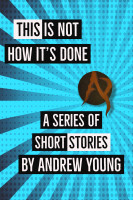 This Is Not How It's Done
by

Andrew Young
THIS IS NOT HOW IT'S DONE Is a series of 3 short flash fictions based on deception, lies, revelations, and God-complexes. Dive into the warm summer days at the Hollywood poolside. Enjoy Vermont for all of its beautiful greenery and join us in Baltimore to see "Starry Night" come back to life.
Andrew Young's tag cloud