Kayode Somoye
Biography
Ayanfe Kayode Somoye is a man of great passion for the kingdom of God. He is a motivational speaker, ordained Minister of the Word of God, Writer, Singer, Poet, Editor, Actor and Theatre Director.

Inspired by the Holy Ghost, he has authored many works published and unpublished, titles like "The Secret of Greatness in Leadership", "The Best Place to Be", "Dynamics of Courtship", "God is a Supernatural Lover", "Realize Your True Self", "Our Mandate is Greater Works", "Maximizing Capacity
Utilization", among other titles.

He is a social worker and a development Consultant, who is passionate about children and youth development, as well
as an advocate for the cause of employment generation for the
employable in the society.

Ayanfe Kayode Somoye is a happily married Minister, with a thriving Apostolic Ministry, and very keen about Soul-winning.
Books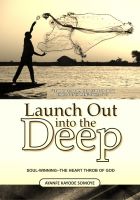 LAUNCH OUT INTO THE DEEP - Soul Winning, the Heart Throb of God
by

Kayode Somoye
This work I believe will rekindle the fire of evangelism and spiritual revival. We have a God that answers prayers. A God that is more than able to save all the souls we bring before Him. Saving souls is His Heart Throb. Come into His camp and side to deplete the kingdom of darkness of the pitiable souls that are wallowing in iniquities. Arise and let us join hands to do it.
Kayode Somoye's tag cloud