Duane Smith
Biography
Author, consultant and motivational speaker, Duane Smith has emerged as one of the compelling new voices in multicultural literature. A graduate of Cornell University, where he initially became aware of the issues surrounding African-American scholarship and history, The Nubian has been critically acclaimed as "… a fascinating blend of political intrigue, cultural history and spirituality."

He has appeared on radio and TV in New York, Philadelphia, Washington D.C., Chicago, Detroit, Houston and Atlanta. His writing emphasizes the multicultural experience in contemporary literature, an area he feels has been sorely neglected by readers in this country.

His other works include The Heritage Revealed Series, eight short stories for children drawn from different cultural venues around the world. These stories are designed for ages 9-12, and help the young readers build vocabulary and reading skills. Each of the stories dramatizes positive character traits, such as loyalty, faith, determination, courage and understanding. The titles included are: Legend of the Golden Hawk, Journey to Clay Mountain, Lost on Victoria Lake, Cats of the Sun, Revenge of the Chess Master, Welcome Home Mrs. Falcan, The Spider House and Rendezvous in Fish Village.
Books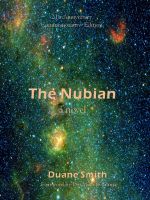 The Nubian
by

Duane Smith
"True spirituality requires one to develop a cosmic consciousness, for words are the containers by which the power of the Spirit (Universe) is shipped into the realm of the material world. The fundamental challenge for a true (cultural) warrior is to bring to bear the immensity of the power in the Universe on the circumstances of everyday living. I refer to this process as...Gripping the Spirit!"
Duane Smith's tag cloud