Festus Obi
Biography
I live in Houston, Texas. Writing is a hobby I want to turn into a profession. For many years I have been putting off professional writing for whatever reason I don't know. I consider myself a late-bloomer. My initial publications will be for children; telling them educational stories woven around humans, animals, spirits, plants, and non-leaving things. Each story will have life lessons for the readers. I will also write for teenagers and adults. If you are looking for a romantic novel from me, you may wait for a long time. Maybe I am afraid you may not like my writing style. Just give me a sneek preview. You may like what you will read.
Smashwords Interview
Books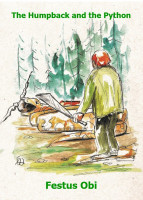 The Humpback and the Python
by

Festus Obi
This book is about an uplanned encounter between a farmer and a python. Although the farmer had every opportunity to kill the python in its vulnerable state, he decided to help the python instead. This act of kindness was never forgotten by the python which rewarded the humpbacked farmer in a way he never imagined. This story has lessons to teach children and adults as well.
Festus Obi's tag cloud