Martin Greening
Biography
Martin was born in 1972 in Southern California. He was corrupted early by his older brother's interests in Heavy Metal and Dungeons and Dragons, and enjoyed reading as a child (Encyclopedia Brown and The Wump World were his favorites). He is particularly fond of his first exposures to fantasy from J.R.R. Tolkien, David Eddings, R.A. Salvatore, and Margaret Weis and Tracy Hickman. After becoming enthralled with the appendices of The Lord of the Rings, Martin relished building worlds and constructing languages. He drew maps of far away places and labelled them with strange characters, even going so far as to create an island nation named Heathcliffia (named after his favorite comic strip) that included tax forms written in their script after he discovered a copy of the 1040EZ at the town library. Sadly (or maybe it's a good thing?), these maps and texts are part of a landfill now. Martin wrote a few stories during his formative years, but none of them were all that great and only one, a science-fiction piece blasting his A.P. English teacher for favoritism, survives to this day.
Martin currently lives in Sin City where he works as an IT guru by day and a dreamer of the fantastic by night.
Books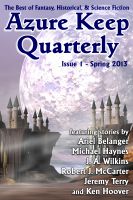 Azure Keep Quarterly - Issue 1 - Spring 2013
by

Martin Greening
The premiere issue of Azure Keep Quarterly contains six stories of great fantasy and science fiction from authors: Ariel Belanger, Michael Haynes, J. A. Wilkins, Robert J. McCarter, Jeremy Terry, and Ken Hoover. Azure Keep Quarterly is an imprint of Azure Keep, a 21st century publisher, and is released four times per year.
Martin Greening's tag cloud