Tyson Brazille
Biography
Is a student of life. Enjoys utilizing the service that smashwords offer and is impressed with the user friendly content. With a bachelors in Industrial Design, Tyson is working hard at solving problems he and others around him face. Tyson is an advocate of teamwork and knows that a combined effort will help offset the struggles many in our communities, country, and globally face.
Books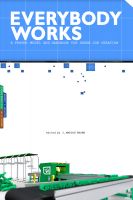 Everybody Works
by

Tyson Brazille
(5.00 from 1 review)
Everybody Works "A Proven Model and Handbook for Green Job Creation", a collection of insight and stories offering unique and shared perspectives within the creation of green jobs. The guide features a walk through a proven model attempting to address the issues of underserved workers and businesses within the urban and suburban community. Global warming & outdated technology is changing the game!
Tyson Brazille's tag cloud