Peter Street
Biography
Peter Street was born in Wigan, England, in 1948.

He has published four poetry collections and his first, Out of the fire, was nominated for the 1993 Forward prize. In the same year ITV broadcast a 12 minute Remembrance Sunday special about his time as a war poet during the Bosnian/Croatian conflict.
Street has also been seen on Zoom TV, Rundfunk, Munich, Germany and Netherlands TV programmes,

His poetry has been broadcast on the BBC World Service and he was Poet-in-Residence for BBC Manchester's 'Who Cares?' programme.

He won the Poetry Society's Fish and Chips Placement.

Street has been writer in residence in many schools, colleges & prisons, and at the International Youth Camp.

In 2007 he wrote a series of poems for the highly successful Tony Bevan Catalogue.

He is a qualified Arborist and has previously worked as a chef, forester and gravedigger/exhumer.

Peter's life story is that of an itinerant autodidact, with shades of The Ragged Trousered Philanthropists and Thomas Hardy's Jude. But he has defied decades of hardship and disability to become a war poet and BBC writer-in-residence, with four volumes of verse to his name.

Peter recently released his fifth volume after winning a grant from the Royal Literary Fund, the benevolent society set up to help professional writers in straitened times. Past beneficiaries have included Samuel Taylor Coleridge, DH Lawrence and James Joyce.

"Poetry is usually written by people who are quite intelligent and come from good backgrounds, so I was cutting through all that," Street says.
Books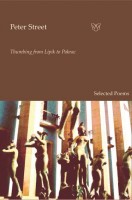 Thumbing from Lipik to Pakrac
by

Peter Street
Price:
$1.40 USD.
Words: 1,870.
Language: English.
Published: March 16, 2016
. Categories:
Fiction
»
Poetry
»
U.K. Poetry
This book of powerful poems charts Peter's impressions of war-torn Bosnia in 1993. The strength of this collection is that he tells it as he found it, with no trimmings or overt poeticisms, just gritty life in all its squalor and determination to survive. Wars still go on and there will be similar situations arising as the ones Peter charts making his work as relevant as ever today.
Peter Street's tag cloud