Donald M. Stauffer
Biography
Donald M. Stauffer is the author of the new age fiction novel Armando and Pea, a witty adventure that contains mystery, meditation, and zany, offbeat characters.
He lives in California.
Books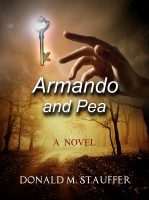 Armando and Pea
by

Donald M. Stauffer
Meditation Mindfulness Professor Pea is searching for inner enlightenment but can't find it. He suspects he has a soul; but he can't prove it. To do so, he wants to verify its existence scientifically. He seeks answers. None come. Then, an envelope arrives in Pea's mail. Inside is a crude hand-drawn map showing a remote mountain location. On the map is a single word, Armando.
Donald M. Stauffer's tag cloud