R.W. Preston
Biography
R.W. Preston was born in Southwestern Pennsylvania in an old coal mine and steel mill town of Johnstown. The home of Charles Bronson. Many people who know their history recall the Great Johnstown Flood of May 31, 1889. When Lake Conemaugh Dam (a dam that was made of earthen works of stumps, trees, disregarded stone scraps, and more) , the biggest of its kind in the Northern Hemisphere at time - broke after a terrifying night-storm, the water, all of two-hundred-and-fifty million cubic feet of it descended down the sloping valley floor at forty miles-a-hour and forty feet high. Eighty percent of Johnstown's homes, businesses, and buildings were wiped off of the map like they were never there: homes, entire families, railroad cars, bridges, trees were snapped like a pencil, horses, barns, livestock, and people. All told, 2,209 perished. I have seen some of the most haunted places of Johnstown, Gettysburg, and Indian burial grounds. The haunt starts from within oneself. A fear. An unknown phobia. A passing thought - that when it gets dissected - people don't like what they discovered: the fear of the unknown...
Where to find R.W. Preston online
Books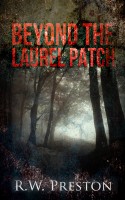 Beyond the Laurel Patch (Book One Of The Moonlight Path Series)
by

R.W. Preston
People are going missing in Yellowstone, park rangers are finding and getting rid of bodies, and there is a serial killer in Yosemite National. The witty-cagey, L.A. private investigator Luke Gilroy and his Tasker Team, weave through the many anomalies and paranormal activity that soon haunts them.
R.W. Preston's tag cloud